Our horses possess unique qualities, just like people. We are so lucky to have a variety of personalities to work with.
Peachy (Peachy Keen) is a 16 year old appendix thoroughbred. She has been with Britt for 7 years. Her history is somewhat unknown, but we know she is a rescue from a major seizure of neglected horses some years back. She has CAO (Chronic Airway Obstruction) and takes daily allergy medication. With the right environment and diet, Peachy's disease is under control. She is one of our very reliable riding and relationship horses. She can be very low energy and sets anxious people at ease, but may require a person to increase his/her energy to achieve connection.
Jesse (Jesse's girl) is a 16 year old quarter horse. Jesse has been formally trained with natural horsemanship principles, and has historically been the reliable "go-to" horse at her old home. Jesse is another reliable riding horse, and she is learning daily how to stay present instead of dissociate with her relationship partners.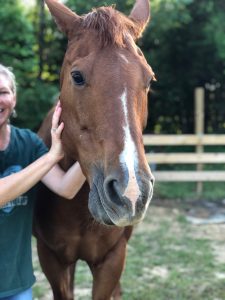 Monty is a 17 year old Tennessee walking horse. She had a hip surgery as a young two year old, and has never been able to be ridden as much as most horses because of this. She is a gentle giant and loves attention from everyone at the farm. Monty is learning that she cannot fit in our laps. 
Susannah is an 8 year old Tennessee walker/racking horse cross. She seems to really love the children that come to the farm in particular. She is more suited for advanced riders, as her gait makes her fast and energetic. She is also a great relationship partner but can push your boundaries. She is also learning to think things through rather than react. 
Tully is a 22 year old racking horse. She is Susannah's mom. She and Susannah have lived together with their past owner until she needed to donate them due to health concerns. Tully is also fast and fun, but can also be very gentle and kind.
Gabriel is a 6 year old appendix thoroughbred. He has hock issues that have made it impossible to race or be a show jumper, so he has found his home with us. Gabriel is a sweet, passive gelding who really lets everyone run all over him. He could use some assertiveness training with horses.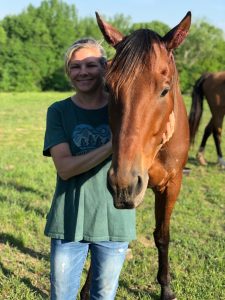 Zuni is a 7 year old mystery – most likely quarter horse or mustang cross. She was a rescue in 2017, and has come a long way in building trust with humans. Zuni is a challenge as a relationship partner, but many people with trauma histories tend to relate to her.
Oreo is a 4 year old mini pony. He had not experienced much in the way of handling when we got him, and he is slowly learning the ways of a horse on a big farm. He is learning how to be bathed and haltered. He loves attention but that can get him into trouble! He is known to find his way through fences to get to be with the others.
Franklin "Frank" is a 4 year old mini donkey. He and Oreo lived together in their past home. Frank is a people lover like we have never seen. He wins people over quickly with his charisma. He too is learning to be bathed and haltered.
Foster children – we work with a nonprofit that rescues horses. We will take them once they are medically stable and work with them within the program. The benefit of equine therapy is not just for people. The horses also learn bottom up regulation, how to think independently, and that people can be trusted and connection can feel good. At times the horses stay with our program, and at others, they are more adoptable and go to forever homes.
Always in our hearts
Banana Split
Chances are if you ever took lessons or showed in the Memphis area, you knew Banana. Banana joined our family long past her show days and began a new career as a therapy pony until she crossed over the rainbow bridge earlier this year, 2017. Banana was the perfect balance of reliability and challenge for riders and patients. She was my first equine partner and I will hold her in my heart forever.